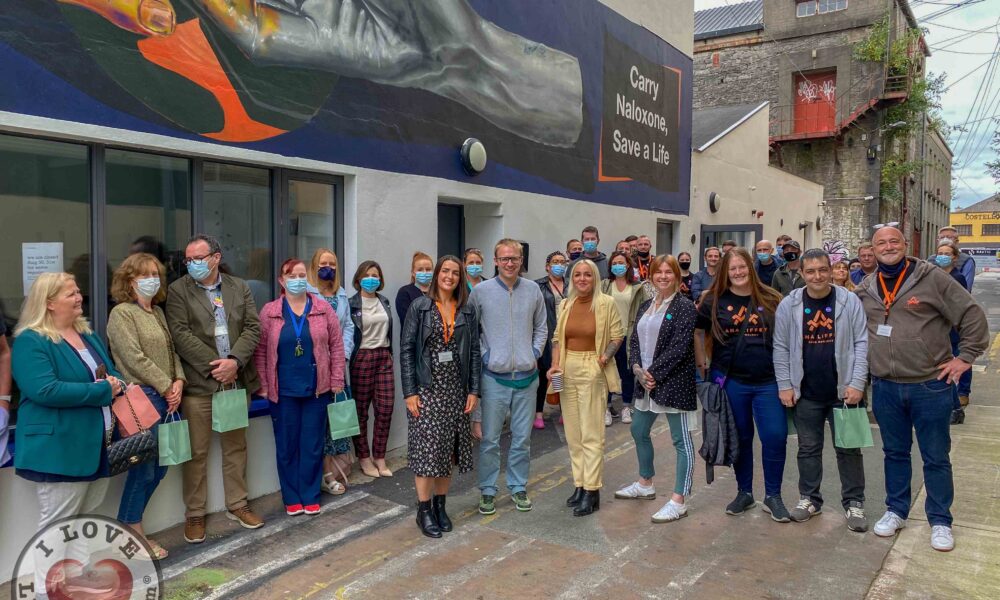 Ana Liffey Drug Project – To mark International Overdose Awareness Day 2021, Ana Liffey Drug Project unveiled a prominent mural in Limerick City Centre which draws attention to the drug Naloxone. Picture: Richard Lynch/ilovelimerick
Ana Liffey Drug Project unveil City Centre mural celebrating life saving drug Naloxone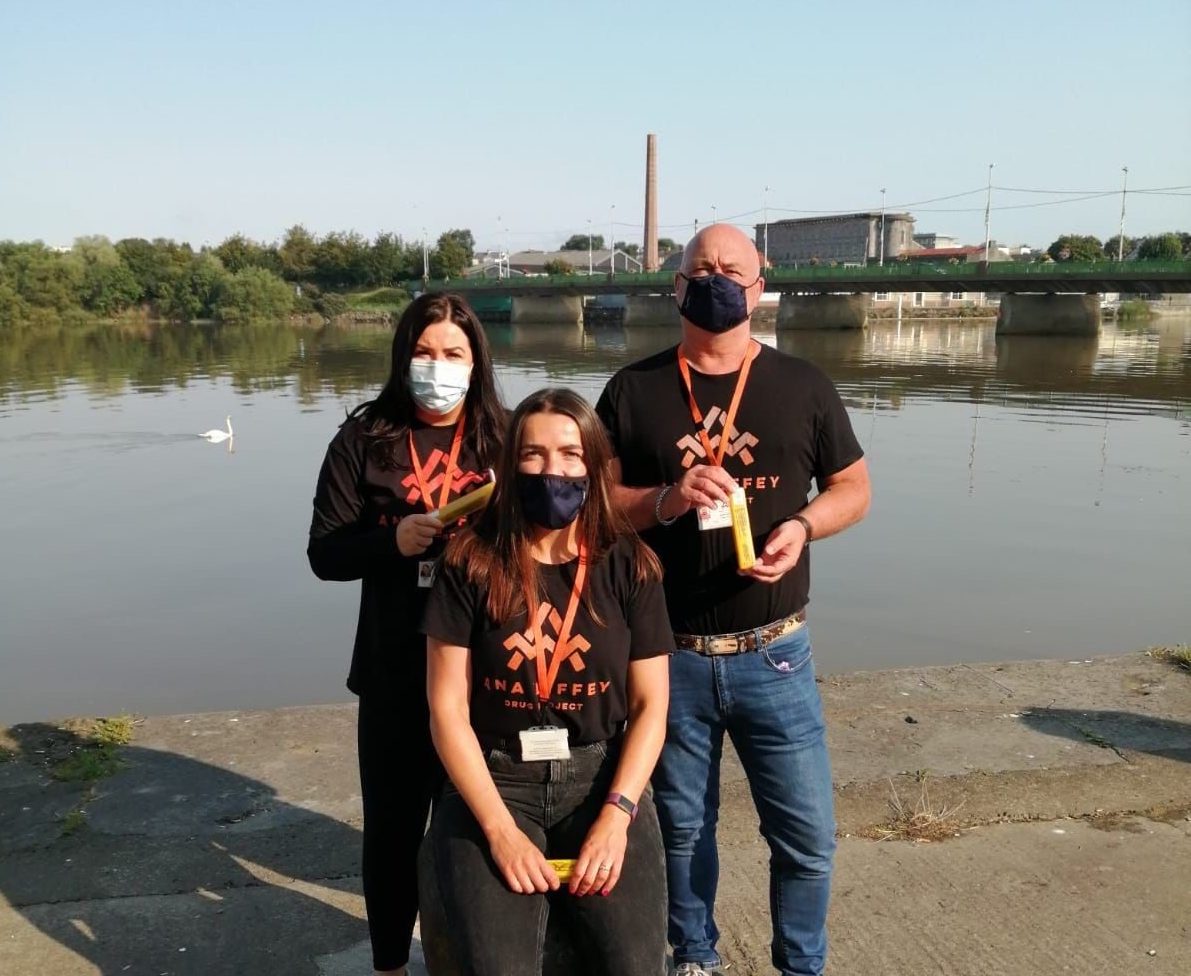 To mark International Overdose Awareness Day 2021, Ana Liffey Drug Project unveiled a prominent mural in Limerick City Centre which draws attention to the drug Naloxone – a prescription medication which can reverse a heroin overdose.
Ana Liffey's Team Leader Rachel O'Donoghue said, "Our team works hard to get Naloxone into the hands of people who can save lives if they come across an overdose. In the Midwest, people who use drugs and their family members are often the first responders to an overdose. Many are trained to respond to overdose and save lives. We want to celebrate them. We also want to say thank you to Paul and the team at Canteen on Catherine Street for partnering with us to display this wonderful mural on their building.
In Ireland, heroin is still used widely in communities and the drug problem has evolved over the years to include street tablets and crack cocaine. The drug naloxone acts as an antagonist to heroin and can reverse a heroin overdose. Ali, a service user of the Ana Liffey Drug Project, explains that naloxone can do no harm.
If I didn't have Naloxone I wouldn't be here today. Family members, everyone, should get this training not just drug users".
Naloxone comes in an injectable form and also in a nasal spray. The drug is prescribed to a drug user by a GP. In Limerick Dr Patrick O'Donnell of the HSE has been at the forefront of the movement to ensure naloxone gets into the hands of people who can save lives and has collaborated with Ana Liffey for many years to ensure a steady supply of the drug. Then the drug users and the people around them are trained by Ana Liffey Drug Project and similar projects to recognise the signs of overdose, to manage an overdose and to administer Naloxone.
Mick Lacey, Chair of the Mid-West Regional Drugs & Alcohol Forum described the supports available to people using drugs in the Midwest saying, "The Mid-West Regional Drugs & Alcohol Forum and the HSE locally support a wide range of addiction and family support services in Limerick, Clare and North Tipperary who work every day to bring help and hope to those living with addiction. With the unveiling of this mural, it is another chance for us to say that the stigma of addiction must end. The shame and secrecy that surrounds addiction does not help. It does not help individuals, families or our community. The mural by Ana Liffey and Drawout is also a sign to say 'We are here to help'."
Catherine O'Halloran, Manager of Draw Out, the Art Company that delivers innovative street art across Limerick, spoke about the importance of raising the issue of addiction, overdose and the potential to save lives through this mural.
"We are hopeful this mural is an example of how art can communicate an important message like this in a way that is accessible and engaging to a wider audience than we might reach with traditional means. Sufek West, our chosen artist for this project, has delivered a mural that is sensitive and evocative, he has managed to capture and translate the essence and depth of this subject and we are delighted with the result. The importance of issues like this and specifically how addiction is affecting our communities is really important to us and our wider work in the communities, this is a mural with a powerful message that can play a role in educating people to save lives. This was a particularly meaningful collaboration, with the Ana Liffey Drug Project and our hope moving forward is that this mural creates a legacy of meaningful artistic responses to issues that affect our most vulnerable"
Ana Liffey's team work on an outreach basis across Limerick, Clare and North Tipperary providing the following:
– Overdose Prevention including distribution of take home Naloxone – Safer drug use advice
– Addiction key working and case management
– Needle and syringe provision
– Safer sex advice
– Information on Blood Borne Viruses (BBVs)
– Safe disposal of drug paraphernalia
– Information, signposting and referral to other support services.
A small launch of the Naloxone mural will take place on 31/08/2021 at 5:00 pm at Canteen, Catherine Street, Limerick.
For more information on naloxone and how you can get it go HERE and HERE
For more information on support services available in the Midwest go HERE
For more information on Draw Out go HERE
For more stories on Draw Out go HERE